Now android app developers can take a sigh of relief with the flugel.fr order cheap xenical usa arrival of Kotlin- a one-stop solution for the problems encountered during android app development by the developers. Kotlin is offering some exciting features to Android app developers that they've been seeking for years. Now the process of rewriting Android apps in Kotlin has begun as Google itself wants to become Kotlin-oriented.
This open source and you can check here pragmatic computer language hit the market like a sack of brick soon after its release, earlier this year. Kotlin was founded in the year 2011 by a Russian company called JetBrains! The in-house team of developers JetBrains was hunting for the replacement of Java as this programming language in their products due to the inherent restrictions at certain touch points imposed on developers. Though they had a big Java code base, the company decided to find a compatible language for Java and planned to write their own language recognized as Kotlin.
However, Google did a fantastic job by support Kotlin that has boosted the morale of android app developers across the world. The reason Google has lapped Kotlin as the go-to language for android application development was its uniqueness with regards to flexibility, power, and autonomous approach. As you can see the below image explaining the most loved languages by developers across the world: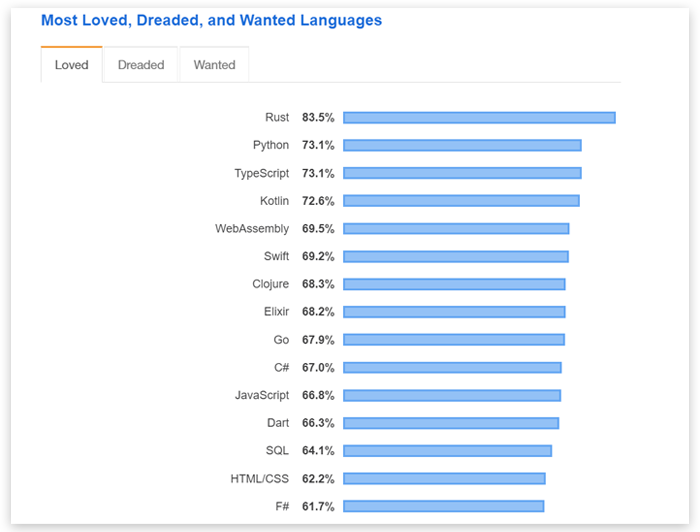 What was the Major Challenge Faced by Kotlin Developers Initially?
The major challenge faced by Kotlin developers was designing of this platform. The design they first created includes nullability in system types that bothered the programmers immensely as the solutions were overflowing with hassles. After putting so many efforts and attempting innumerably, the developers finally developed platform types, which is the existing version.
What are the Key Benefits of Adopting Kotlin?
One of the significant reasons why developers are adopting Kotlin for their Android apps is because it has become officially supported language for Android apps. And being a developer, though you've hands-on experience on Java, staying updated and going with the trend is highly crucial. Take a look at the benefits of adopting Kotlin and then make a decision:
In 2012, the team of Kotlin developers announced that this platform would be an open source platform. That's the reason it helps to amplify the overall efficiency of developers as they get instant support from the Kotlin stack team.
Java is quite verbose that requires a lot of writing, but with Kotlin, things are different. Kotlin provides top conciseness, thereby saving the time and energy of developers while writing codes. This has become one of the primary reasons why developers prefer Kotlin for android app development.
Best Language with Great IDE Support-
The team of Kotlin developers has strived hard to deliver this product in the market, which means the language has gone through countless ups and downs before its final release. More so, even before Kotlin was released in the market, the JetBrains developers were already using it in different projects. That's the reason Kotlin meets the aim of every developer by meeting their practical needs and usa xenical provide a great IDE support.
Helps to Simplify the App Development Process-
Undoubtedly, Kotlin is a powerful language that is ahead of Java due to some rigid issues that developers were facing using Java. The other programming language, such as Scala is also an excellent platform for android app development. But it is prolonged with a compilation of time, and in this fast-moving world, this could affect any business. The library of Kotlin is too small and doesn't require any pro knowledge to code android apps.
Boosts the Overall Speed of the Entire Process-
Kotlin has been already integrated with Android studio, making things faster ever than before. It takes only 10 minutes for a developer to set up the Kotlin project, even if the developer is a fresher. The Android version 2.3 requires a plugin to incorporate with Kotlin, whereas Android 3.0 is completely integrated with this programming language. It can also work from IDE, debug in no time without any hassle, similar to Java.
Kotlin is declared as the highly secured platform as compared to Java. There's a significant problem with the design of Java that increases the workload of developers, enabling them to spend more time and money. For instance, when working with Java null is the major error-prone factor that even 90% of bug managers face the same problem with no appropriate resolution. However, in Kotlin programming language nulls are non-existence, and no variable by default is sent to "null" in this.
Being a replicate to Java and other popular languages, Kotlin is quite easier to learn. Even a person from non-technical background can easily read and understand the codes as the language used is very basic. This gradually reduces the chances of errors in the development process as a Java developer is quite familiar to the language. JetBrains keep the transition from Java to Kotlin seamless as even they're utilizing this platform for their projects as well. The only tricky part of Kotlin is where Java loses out the game. Kotlin opens the gate of opportunities for developers to become more innovative and an excellent problem-solver by solving every issue uniquely.
Eliminates Traditional Methods-
Kotlin is considered to be a modern language for developers, eliminating the antiquated Java language. Java has been in the market for a long time and has become obsolete with time. But the modern concept of writing codes- Kotlin boosts the creativity of developers and workflow as well. Adopting modern languages enhances a unique of thinking, which is vital for a developer as everything reflects in their work.
Wrap up
In a nutshell, the future of Kotlin Android app development services seems to be brighter! Developers are supporting this language with great enthusiasm after the official announcement of Google. It can change the landscape of android app development completely.